1. Please make sure your car is Aftermarket Android 4.4 and above system.
2. Download the AutoKit application, and enter settings > environment testing. If all three options are all displayed with "√",
3. Your car can use a dongle.
*Note:
Original car screen will not work, car with Factory CarPlay or Android Auto will not work.
If you choose this USB dongle and you can't install the APK on your car, you can't use our product. CarPlay dongle can be run through the app, Only when your Android Head Unit successfully installs "AutoKit.apk" can you make the dongle work.
"Wired Connection" means you can only connect to your CarPlay via cable. "Wireless Connection" means you can not only connect to your CarPlay via cable but also via Bluetooth and wifi.
Will it work for my phone?
It supports iPhone 6 and above systems, like iOS 10 or more.
It supports Android Auto feature phones. (Phones compatible with android auto: Any phone with Android 11.0. system. A Google or Samsung phone with Android 10.0. A Samsung Galaxy S8, Galaxy S8+, or Note 8, with Android 9.0.)
*Note: lf your iPhone is iOS 6+ or above, please update AutoKit.apk to the latest version.
Product Features
★【Wireless CarPlay】 Bluetooth pairing, WIFI transmission.
★【Wireless Android Auto】Discover safer to use your Android Apps by connecting your phone with your vehicle.
★【 Easy to use】 Easy installation, no need to remove the car
★【5G processor】Quick connection of the product.
★【Automatic connection】 Plug in the car and connect when you get in the car.
★【Online upgrade】 The product can be repaired through the online upgrade version.
★【Multi-person use】 Support multiple mobile phones to switch to use.
★【Mirrorlink】 Supports iPhone and Android phones, you can use any APP on your phone, such as watching YouTube, Netflix, etc.
✔ 【Original Car Control】 Support original car button/knob control/steering wheel control, still the original driving style.
✔ 【Voice Control】 You only need to say "Hey Siri..." and your car will get to know you better.
✔ 【EQ adjustable】 The best audio quality. Freely choose your favorite style (pop, rock, soft, standard...)
✔ 【Music】 Play Spotify, Apple Music, Amazon and other audio through original media, and some apps can display lyrics.
✔ 【Map】 GPS navigation applications, Google Maps, Waze and Apple Maps are available, real-time traffic information.
✔ 【More APPs】 Such as WhatsApps, Books, Podcats, etc.
★ The main extended feature of CCPA-MIC over CCPA: Built-in Microphone.
How to check if my car is android system?
1.please enter the "setting "page
2.Click "About the device",then you can see Android version.if it is 4.4.2 or above ,then it can work for your car.
How to install the APK? (There are two ways)
Method 1: Download the APK on Car Browser.
1. Click the browser on the car, enter the URL, and download APK.(Your car must Connect to the Network.)
2. Click the "Download Directory" to find the downloaded APK file, then install it.
Method 2: Download the APK on your computer, copy it to a USB flash drive, and install it.
1. Enter the URL on your computer browser, download the APK, and copy it to a USB flash drive.
2. Insert the U disk into the USB interface of the car, find the U disk directory in the "File Manager", then install it.
Download Apk Link: http://121.40.123.198:8080/autokit/autokit.apk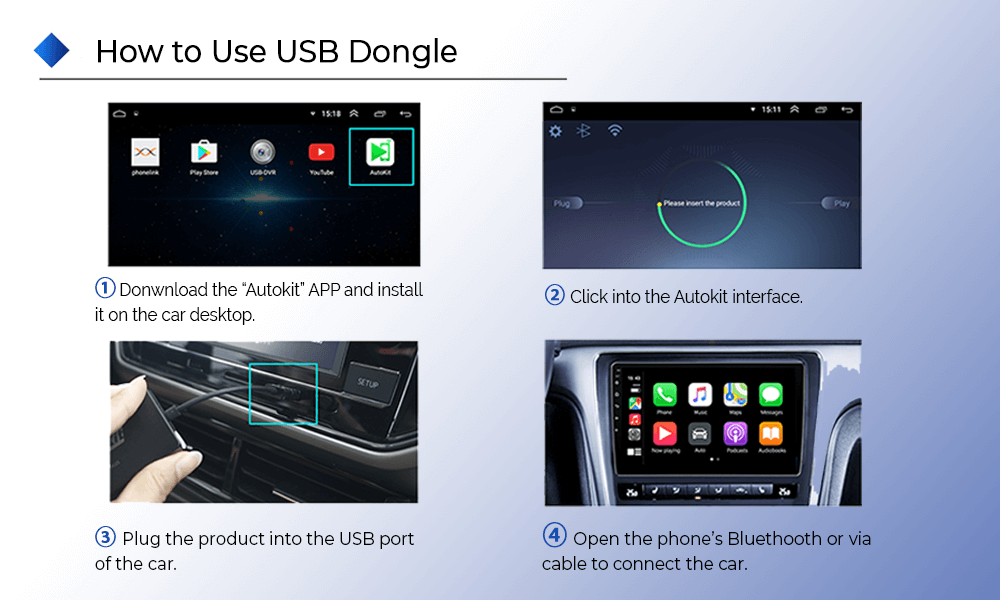 Specifications
Type: Wireless Carplay & Android Auto Adapter

Main Function: Make Aftermarket Android Screen Car with Wireless Carplay & Android Auto

Model: CPC200-CCPA

Supported Phones: Smartphones compatible with Android Auto,Android 6.0+ (Wired),Android 11.0+ (Wireless),iPhone with iOS 10+

Supported Vehicle Head Unit: Aftermarket Android 4.4+ System

Instructions: English